Desperate dating tour
Get the technical details
Desperate Dating provides a market leading dating platform packed with features and security. We may be a niche dating app but that doesn't mean we are lacking punch. With one of the fastest sites in the dating industry we aim to help you find your match quickly.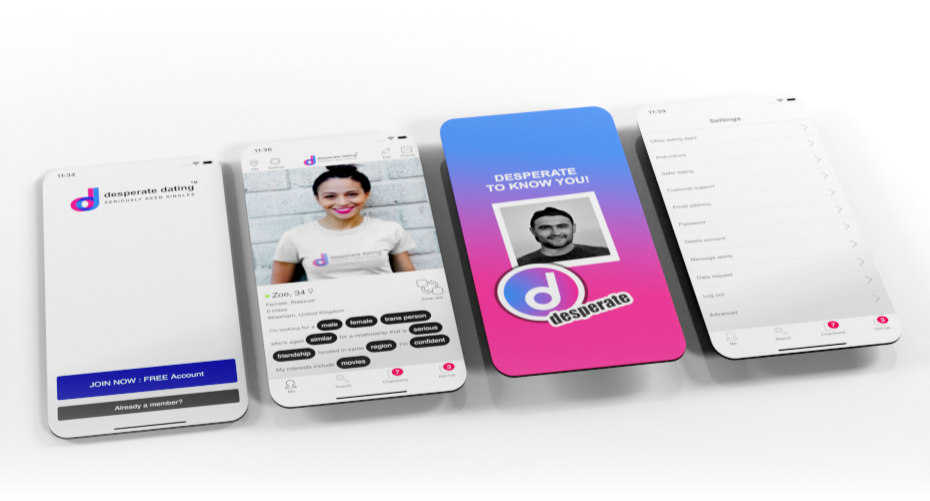 Clean and easy to use interface for mobile and desktop. The powerful and fast search system brings up potential matches in a fraction of a second. The 1 click DESPERATE button helps start conversations with minimal fuss.
Any device
Mobile, tablet, desktop and laptop. Your one account can be used on whatever device is best suited for you or the time of day. Use the mobile version for a quick search or the desktop for more in depth conversations.
Speed
We don't make you wait for more than 0.4 seconds to load a profile as we know waiting around is never fun. You may have already noticed our obsession with speed whilst navigating our homepage. Reload this page right now and see how quick it is.
Privacy
We ask the minimum and we are happy to erase all your data when you wish to leave. There are sites that keep hold of everything to boost their reported membership numbers, not us. We respect your data and we use less server disk storage, a win for everyone!
Security
When you join a new site you never know how your password is stored. If it is done incorrectly and the servers are compromised then you could have given a hacker access to other sites that you have used the same password. Your password on Desperate Dating is stored in a way that it is nearly impossible to decode. You connection to the site is secured with SSL and we have several automated monitoring systems in place to detected suspicious activity.